Armenia's Democratic Journey in a Turbulent Region: The Need for Security and Stability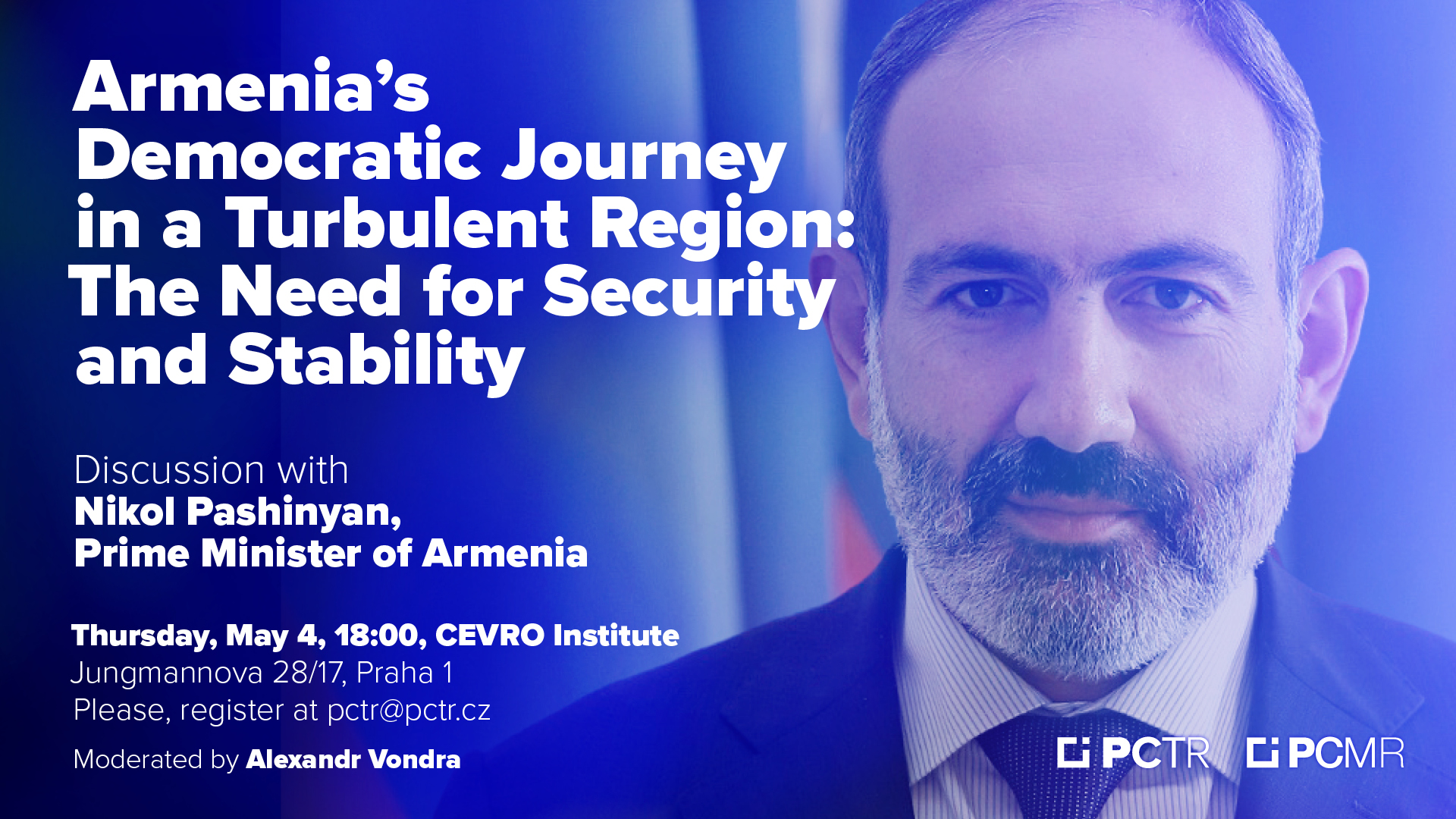 Prague Center for Transatlantic Relations (PCTR) and Prague Center for Middle East Relations (PCMR) cordially hosted a discussion with the Prime Minister of the Republic of Armenia, Nikol Pashinyan, on Thursday, May 4 at 18:00, CEVRO Institute, Jungmannova 28, Praha 1. The discussion titled Armenia's Democratic Journey in a Turbulent Region: The Need for Security and Stability will be moderated by Alexandr Vondra, MEP.
If you plan to attend, register at pctr@pctr.cz by May 1.
Nikol Pashinyan was appointed Prime Minister of the Republic of Armenia on August 2, 2021. He headed the proportional list of the "Civil Contract" party. He was the candidate for the post of Prime Minister of the party in the 2021 extraordinary elections of the National Assembly. The party received 53.91% of the votes.He has already served as a Prime Minister since May 2018 and resigned to resolve the country's internal political situation through parliamentary elections three years later. He was elected to the National Assembly in the general elections in 2017. He was elected to parliament for the first time in 2012.
A journalist by profession, he had been actively engaged in journalism since 1992. In 1998, he founded Oragir Daily, which was closed down by a court decision in 1999 for political reasons. N. Pashinyan founded his newspaper in 1998, which was shut down a year later for libel. He was sentenced to one year for defamation against then Minister of National Security Serzh Sargsyan. He edited the newspaper Haykakan Zhamanak ("Armenian Times") from 1999 to 2012.
After the 2008 presidential election, Pashinyan claimed voter fraud and incited protestors to attack police in the post-election protests on March 1, 2008. Convicted of organizing mass disorders, he went into hiding until mid-2009 and was sentenced to seven years in prison for his role in the protests. After spending one year and 11 months in prison, he was released on May 27, 2011, by the general amnesty declared by the Armenian authorities. He has been widely recognized as a prisoner of conscience in Armenia and by the international community.
Thank you for participating!