Bezpečnost ve střední a východní Evropě tváří v tvář ruským hrozbám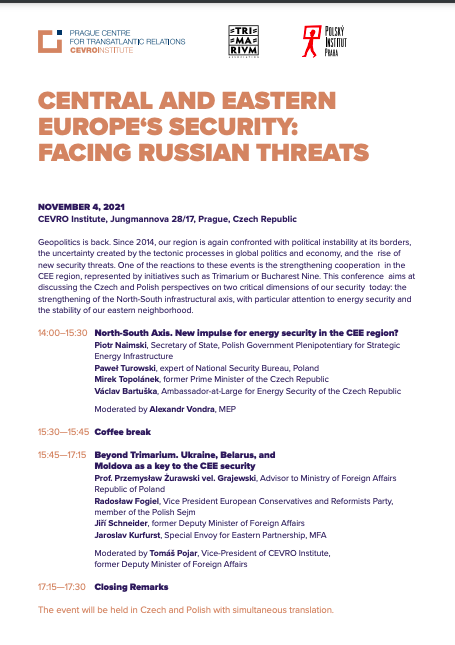 Organizers:  
Prague Center for Transatlantic Relations, CEVRO Institute: www.pctr.cz
Trimarium Foundation
Polish Institute in Prague
Central and Eastern Europe's Security: Facing Russian Threats  November 4, 2021 CEVRO Institute, Jungmannova 28/17, Prague, Czech Republic Geopolitics is back. Since 2014 our region has been again confronted with the political instability at its borders, the incertitude created by the tectonic processes in global politics and economy, and the rise of new security threats. One of the reactions to those processes is strengthening cooperation in the CEE region, represented by initiatives such as Trimarium or Bucharest Nine. The conference aims at discussing from the Czech and Polish perspectives two critical dimensions of our security today: the strengthening of the North-South infrastructural axis with particular attention to energy security and, secondly, the stability of our eastern neighborhood. 14:00 – 15:30 North-South Axis. New impulse for energy security in the CEE region?
Piotr Naimski – Secretary of State, Polish Government Plenipotentiary for Strategic Energy Infrastructure
Paweł Turowski – expert of National Security Bureau, Poland
Mirek Topolánek – former Prime Minister of the Czech Republic
Václav Bartuška – Ambassador-at-Large for Energy Security of the Czech Republic
Moderated by Alexandr Vondra, MEP 15:30-15:45 Coffee break 15:45- 17:15 Beyond Trimarium. Ukraine, Belarus, and Moldova as a key to the CEE security
Prof. Przemysław Żurawski vel. Grajewski – Advisor to Ministry of Foreign Affairs Republic of Poland
Radosław Fogiel – Vice President European Conservatives and Reformists Party, member of the Polish Sejm
Jiří Schneider, former Deputy Minister of Foreign Affairs
Jaroslav Kurfurst – Special Envoy for Eastern Partnership, MFA
Moderated by Tomáš Pojar – Vice-President of CEVRO Institute, former Deputy Minister of Foreign Affairs 17:15 – 17:30 Closing Remarks